Aurelia Mal'veah
Talk

0
1,523pages on
this wiki
Aurelia "Aren" Mal'veah
Biographical Information
Homeworld
Born

208 ABY

Physical Description
Species
Gender
Height

1.71m (5' 7")

Skin

Light Tan

Age

24

Eyes

Blue

Hair

Black

Chronological Information
Timeline
Affiliation(s)
Title(s)

DJE Padawan
Jedi Sentinel

Rank(s)
Master(s)
OOC Information
Created

2011-07-17

Player

XRoniaX Resident
Aurelia "Aren" Mal'veah is a Jedi Knight (Sentinel) of the Dantooine Jedi Enclave. Her turbulent past ended up as she found the peaceful and inspiring place of Dantooine.
Early Years
Edit
(Based on fictional events in SWRP))
Childhood
Edit
Born in 208 ABY on Haruun Kal, her parents emigrated to Coruscant as soon they were able to and prospered at the manufacturing industry. In later years Aurelia's mother told her Daughter that it was because of a warning from a ghost she got as a vision at night, that they left her homeworld.
" I need to talk to you about your daughter. She is strong with the force and with guidance, patience and work, she'll become a strong force for the Light "

— Aneuryn Bey to the Parents of Aurelia
In 212ABY a Jedi crossed the paths of the young girl, whom was strong with the force and held two villains in check with the help of the force. Aneuryn Bey, the Jedi Knight who found her spent days with Aurelia and her parents and finally convinced them to allow her to bring her to the Jedi Council as they would decide if the young girl will become a Jedi.
" She is limiting herself, deviant to people who try to teach her and to top that, she has no doubts that the teachers are holding her back. She can't become your Padawan, Master Bey "

— an unkown Master about Aurelia, to Master Bey
The young girl became a Youngling, powerful within the force, but limiting herself as the sc

holars tend to say. Her lazyness and impatience were slowing her progress down and let it become more risky to train her. When Aurelia turned 10 Aneuryn Bey offered the Council to take the Youngling as her Padawan, but they weren't sure if the pathes of Aurelia would be some of a Jedi. By courtesey of Aneuryn Bey's negotiating skills, she could convince the Council that one had to keep her close and guide her would be more helpfull than in the group of many where she could slip into trouble more easy than beeing watched closer.
Padawan - Chapter I
Edit
" I've chosen you to become my Padawan for two Reasons. The first is because i trust in you and lost one of my former Padawans. The second is, that the Council doubt your abilities to become a Jedi. My dear, I want you to remind them, that they are not free from mistakes! "

— Master Bey to Aurelia

As the council gave permission to take the Youngling as her Padawan, Bey and Aurelia spent meditating to strengthen the connection of Aurelia with the force. The progress still was slow even the older Padawan of Bey, Rika Sy'rin Th'ek tingled the young humans curiosity and got her from beeing lazy to interested.
" For a moment i thought, i would have lost both of you, then Aurelia has shown us, that she wears her heart on the right place. An important thing for a Jedi, Rike, we both can learn from it. "

— Master Bey to her Padawans Aurelia and Rike
As the time went by Aurelia was talented but not where she could be and Rika Sy'rin Th'ek felt herself slowed down in her progress by the young human, so the Twi'lek became emotional during a training fight and used her emotions to strike, but Aurelia intuitive acting, could stop her friend. Even though Aneuryn Bey talked to them later about her fear that she has lost both her Padawans, Aurelia stayed and helped her friend back to the light side.
A few days after Aurelias 17th birthday, her Master and her got a mission on Tattooine, whilst Rike had to stay on Coruscant for her Trials of Knowledge. As they approached at Tattoine they found a whole village burning and every civilian dead. The Padawan, as she became strong in tracking echoes through the force, found those who were responsible for the crime and nearly got overwhelmed by her anger about it, but found back calmness, seeked her Master and guided her to the place where she found the Villians. Distracted by her emotions she had missed to see that Dark Jedi were among them, so they ended up in a close and even battle and later had to escape when Aneuryn Bey got wounded.
"I wish Rike would be here, now i fear that you will have to comfort her. You need to leave now, i'll cover your retreat and i don't accept a discussion about it. When you don't leave i'll stabb myself! But you have to know that I am proud of what you have achieved my dear. Don't stop learning... Promise me that Aurelia. There was a third reason to take you as my Padawan, i have never told you about. Once in your fututre i have seen that you will become a light of hope! May the force always be with you, Aurelia Mal'veah, my Sister through the Force! "

— Master Bey's last words directed to Aren
Sent away to get help, Aren didn't want to leave her Master, but Aneuryn Bey left her no choice. She got a few things of Bey and had to leave. Her request for help to the Jedi Council stayed without a positive reply, so she decided to get back and get out her Master. Aurelia came too late and Aneuryn Bey had been passed away and became one with the force. Emotional agitated, the Padawan made her leave to Coruscant and faced the council. Aurelia blamed them for their apathy and found lies in their promise to be seen as Guardians of the Peace. The council reacted strange in her eyes, wanted to Knight the Padawan for passing her last trial, when she had faced Dark Jedi, but Aurelia became sick of all of this and felt betrayed. She should celebrate her own promotion in the Moment of death of her former Master? Nothing she could tolerate.

Back on Tattooine she tracked down the Villians, one by one she took them out if needed or arrested them if possible. Just two of them survived, a Dark Jedi and a Headhunter from Coruscant, where, ironically, she brought them to.
" Is sitting on your chairs and discuss about the peace, all this Council is able to do? If this is what you call Guardian of the Peace, i'd rather stop to be one of you. Look at those and do at least what you can do best, holding trial about what to do with them! "

— Aurelia confronts the Council, to tell them about her leaving
Aurelia threw the tied up Villains in the middle of the Council room, followed by hard words about the failure of the Order and as she finished, the Padawan lifted the old Padawan Robe to show it and threw it onto the kneeling Villains. After a moment of enjoying the shock of the Council Masters, Aurelia had her leave, also of the order. Rike got send after her to calm the Padawan down, but Aurelia didn't want to. She blamed her friend for attacking her and following a corrupt and apatic order without questioning and was hoping to hurt Rike as much as possible, so she wouldn't follow her. As Bey, Rike and Aurelia had been on Nar Shaddaa before and felt how the Echoes of the planet were able to hide her bond to the force to others, she went there to hide herself.
Leaving the Order
Edit
On Nar Shaddaa, the former Padawan took a new identity for herself, known as Ereen Sesslyn, most people start calling her simply "Aren". She started her studies in Technology and found out about herself, that she got very talented. S

he stopped her training and cut herself from her lightsabers also, to not bring harm over the people surrounding her. It has been a tought time, she had to go through as most parts of the Area she lived in, were held in the terroryzing grip of Crimelords. She couldn't start propper business, so she decided to repair things for people and as loan she just asked for some food. She learned to live with simple things and found an old and left warehouse, in which smaller backrooms, she made herself a home. She horted stuff to repair she got for free or as loan for her help and built her first remote, which just did not work propperly and efficient.
A group of people, whom kept fighting against the Crimelords in the underground, took notice of her abilities and asked for help with equipment, but later also with her physical presence during some of their Operations. First resisting, the need to help grew inside of Aren and she became a huge part of success, due to her Jedi Training. Unfortunately it caught attention to either the group and the mysterious Lady, who has taken care that the Crimelords lost fear as a weapon and helped the Denizens to become rebellious against their demands. Over two years she has strengthend her surroundings with her courage and deeds, always seeked by Headhunters of the Crimelords, until they decided to use the death of hundreds of denizens as a warning to Aren. She stepped back, knowing that she wouldn't have a chance to live with the option to be the reason for even more terror.
Dark Year
Edit
A last act of help she had promised to participate in, before the killing had happened: Aren infiltrated a Base of a Crimelord, where should be documents of all denizens debts to most of the Crimelords and which kept them enslaved to the Lords will. With the help of the force, the young woman and her helping Hand, a Twi'lek, from Nar Shaddaa, they went straight to their goal and found themself in a trap of several Headhunters. The Informations spread with the reason to get her and her helper out of hiding and capturing them.

What happened during this time is unknown, just that her friend was held hidden but alive, to make sure that Aren will follow their orders and that the former Jedi was seen with an energetic collar, which she couldn't get rid of, even with the help of the force. During that time on Nar Shaddaa, the former Jedi saw herself confronted with the temptations of the dark side and her tendencies to the Lightside got out of balance. Nearly she fell, during her escape, as she striked down every living being related with the Crimelords and the Crimelords themselves. At least, before she embraced the darkness, Aren decided to not allow herself to get corrupted any further and maybe become a threat for others herself, she found out that she still, even after her dark deeds, has to decide to embrace darkness on her own will, otherwise she would not fall.
Dantooine Jedi Order
Edit
((Based on real events in SWRP))
Back to studies
Edit
After several days of wandering around on the surface of Dantooine, and between the Jedi and other denizens, the young woman decided to take responsibility for her being gifted with the knowledge and abilities to listen to the Force and she applied to become Student of the Enclave. During her time as Student, Aren made the acquaintance of Ulesche, a Togruta, once related to the Dark Side and the two became friends and trained a lot with each other. Aurelia also met several Masters, Knights and Padawans, whom all had their part in making the young woman feel home and respected.
A Mission to Yavin IV with Lady Adrianne Romanov, became more Dangerous than expected, as several Representatives of the Dark Jedi appeared, after the Student and the Knight have met with Members of the Kalway Order of the Jedi. Fortunately this meeting had not become aggressive, as the Representatives were seeking for help against "Death Watch" and not to mess around with the Jedi Orders of Yavin IV and Dantooine at the same time. After this Mission, the young Knight and the Student felt that it was the will of the Force to bring them together to Yavin IV, and a Friendship had begun to start
Padawan - Chapter II
Edit
" I once had felt it aswell, i mean that maybe the darkside would be my path. I walked on a thin line, but decided not to become a threat. I believe that mostly the Dark Side can corrupt you only then, when you decide to allow it "

— Aren to her Master Adrianne
Adrianne Romanov took the Student with her to the Jedi Temple of Coruscant, where both of them were looking into

the future and the Jedi Knight offered Aren, to become her Mentor. The Student didn't know what to say, as she found herself deeply connected with Adrianne but also got offers of other Knights. After the return to Dantooine and a few days of consideration, the Student accepted the offer and became Lady Adrianne's first Padawan learner.
The first lessons about the force and being a Jedi, were strange for the young Knight, as on one hand she accepted her new path, but on the other had lived willingly without the dogmas for several years, but as her training went on, Aren familiarized with her role and accepted more and more, what of her past she has left behind and as result, she was able to finish the first section, when the Padawan created a lightsaber.
Now the training has started in it's full extent. Combat training, lessons of knowledge, meditation became

a daily basis of her life. When Adrianne thought, Aren would be prepared enough, they went on Missions together.Once they were inverstigating the disappear of Ulesche, the friend of both of them and they found him on Ord Mantel where he engaged a fight with both of them. The Padawan was shocked but found suspicious, that he called himself like an old Sith Lord, not by his own Name. Aurelia should never find out what has happened, because Ulesche came back to the Enclave a few days later and seem that he forgot about the Happenings, so the

young Padawan decided to keep it like that. But anyways, before it was possible to spend more time with him, he stabbed a fellow Padawan and she died. Ulesche has become once again a fallen Jedi, something she hardly was able to accept.

Her Master, Adrianne, decided to keep her Padawan busy from that day on, so she couldn't think too much about the betrayal and they headed from Mission to Mission and advanced trainings took place.
As the time went by, Aren found her Master in a fight with a Dark Jedi Cyborg on Dantooine. Before she was able to reach them, the Cyborg was able to defeat Adrianne, wounded her, in sight range of the Padawan. He left a Datapad on the Jedi Knights Chest, before he was able to retreat. Aren was tempted to follow, but her Master was in need of medical treatment, so she stopped right at her and checked for the Injuries taken. After taking Adrianne to the Medical Center to care for the wounds and proceeded, what she and the Medical Droids were able to do to help her Master until she became out of danger, Aren followed the orders on the Datapad, which lead her into the Crystal caves of Dantooine. There she found another Datapad which called her to Korriban and after manipulating the Medical Droids and leaving a Message in the Medical Report of Adrianne, the Padawan departed.
Aren: "Take that communicator and place it on the Box on your left and then.. we will talk."
Jesse Tresaiser: "You are not in a position to bargain, padawan."
Aren: "My Cards on the table are not weaker than yours."
― Aren negotiats with a Sith Cyborg
Arrived on Korriban, the disguised Padawan met the Sith in one of the Tombs. The Dark Side was strong at that there, where a long and aggressive negotiation took place. Making it end without drawing her weapon, she gave him what he demanded, and in return he did what she demanded. But the Cyborg was tricky and sent her to another Mission for him. Not feeling like becoming a playball to a Sith, but wanting to find out the hidden agenda, the Padawan followed this Order and went to Dagobah to get the Cyborg what he was demanding. On her way back to Rhelg, she gave instruction to her friend and fellow Padawan Norma, to watch for her Master but also that she is moving to Rhelg and if she wouldn't notify her in a certain time, she should send a Rescue team to get her out.
When Aren arrived at Rhelg she noticed what the Sith was interested in, so she brought him what he demanded and which got revealed as Mission to buy him some time to study a Starmap. Finally after short negotiations, she got the device and could, after she was back on Dantooine, disable the Bombs, placed around the Enclave.
Aren had to prepare herself for the last Trials in her time as Adrianne's Padawan and spent most of her time in the enclave again. Sitting in the Library and listening to lectures and lessons, Aren passed all her trials with honor.
In weal and woe
Edit

In a short period of time, in just 2 years, Aren has made it from Student to become ready for her final Trials. The last days of her Padawanship, her Master and the Padawan spent with Meditation and especially the day before her time as Padawanship found its end, Aren spent deeply connected with the force and looked into her future, presence and past.
"My dear Aren, I met you a few days after I got knighted, I told myself I wasn't going to take a padawan yet, that I wanted to wait for someone I felt a connection with. When I took you to the student trip in Yavin I noticed something in you, I was unsure if take a student to train so soon after I got knighted, but I FELT like i needed to train you, so I did it, and even after you got other amazing offers from Knights and Masters, you said yes to me, and I'm so thankful you took a chance on me, I can't begin to explain how proud I am of you, how much I've seen you grown since you were a student."

— Adrianne Romanov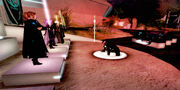 It was dawn when Aurelia Mal'veah became knighted, by the Masters of the Dantooine Jedi Enclave and in front of so many Friends and her Master Adrianne. When the Ceremony just was over, Sith of the Disciples of Ragnos appeared to threaten the Life of Adrianne Romanov's former Master Bala. As the whole gathered Jedi, including Aren, ignited their Lightsaber to stop this Threat, Aren's former Master Adrianne ignited her Lightsaber and stabbed it in a sudden motion in the Back of Council Master Sha'ira. Using the confusion of the new Knight and all of the gathered Jedi, the Sith, including Adrianne, escaped from Dantooine and Aren, whom was supposed to celebrate with her former Master, fell in a hole of Shadows once more.
" It seems that everyone in my closer range, fall to the temptations of the Darkside. But i sense good in her, confusion yes and i am not really sure why she did it, but i vow, that Adrianne will find redemption and if it takes my last breath! "

— Aurelia Mal'veah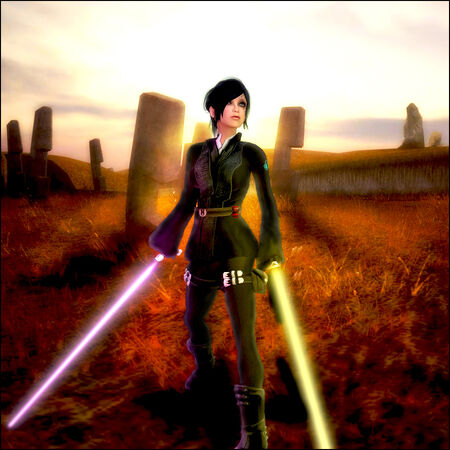 ...to be continued
Characteristics
Edit
(more about the Charakter, Powers and Abilities of Aurelia Mal'veah)
Personality and traits
Edit
In her childhood, she seemed to be fearless about people, creatures or anything else. The young child even got seen, running on a thin bracket, spanned between two Buildings and several meters over the ground. In her years as Youngling she had been known as slow and lazy in learning about the Path of the Jedi due to her impatience, but strong within the Force. Questioning the meaning of her training, her Teachers and herself, she was just a substandard Youngling, whom most Masters wouldn't have considered to take her as their Padawan learner. But the Jedi Master whom found her some years ago, lost one of her former Students and felt compassion with the young girl, so she decided that she could give the Life of the defiant girl a direction, especially as she noticed that she was able to motivate Aren more than the other Masters could do, maybe because she saw her own Characteristics in the youngling.
During the time Aren learned that every Situation has different solutions and that seeking for the right one, can lead over several others. She is open minded, smart and thirsty for knowledge, a relict from her second Padawanship on Dantooine, where she finally was able to step over her defiant nature. In several occasions her fiery character still pierce through the surface and make her less suitable to be a diplomat. Humble to every peaceful life form, Aren can become snooty and still defiant against less peaceful life forms. Her strong will, her defiant nature, but also her knowledge that it need a Decision to fall, makes it nearly impossible to get her to the Dark Side of the Force and invulnerable against any mind trick or illusions. The young Knight is confident and courageous in every Situation, but her liability to overestimate a Danger, can cause her trouble.
Powers and Abilities
Edit
Aren is well trained in using the common Force Techniques for Jedi Knights since her childhood and developed the training for Sentinels about Force Concealment and Force stealth to an advanced level. Whilst with Force Concealmeant, Aren is able to hide her Physical Presence inside Shadows against non-Force Sensitive beings completely and to Force Sensitives only for a couple of Seconds after it's usage, with Force Stealth she is able to surpress her force alignement to the light side and even manipulate it that much that one would sense only a weak Force Sensitive in her, even to Force Users. She developed and continues an intermediate training of Force deflection, Force Immunity, Tapas and yet the basics about Tutaminis.
Since the Death of Aneuryn Bey, Aren often wields two Lightsabers, her own with a violet Crystal and the one of her former Master with a yellow Crystal. Aren is getting used to Niman/Jar'kai as her Main Combat Technique, if wielding one or two sabers. As before she has learned the basics of many techniques like Form I Shii-Cho until an advanced level, as everyone starts with it. A Form II Makashi variation more related to the defensive Parts to save some endurance on a basic level. Form IV Ataru and Form V Shien/Djem_So specialised on Blaster deflection on an intermediate level. Form VI Niman on an advanced level and Form VII Juyo/Vaapad on a basic level. Aren combines parts of every Style she learned during her fights, depending on Situations, but always intuitivly. The knowledge of so many Styles could be seen as it would make her a Lightsaber Combat Master, but if anything it proves as mistaken, because others in her age have already became expert or mastered at least one Combat style, whilst she has basic knowledge of many styles and how to use them, but none of them is on a higher than an advanced level, leaving her too few options to overcome an opponent without the help of the force..
The young Jedi Knight has knowledge about Dun Möch and Inverse Dun Möch, which she at times uses herself and does uses Tràkata when she senses an advantage by it's usage. During the fight between her friend and fellow Padawan to Aneuryn Bey, Rike, whom was a formidable Djem So Duellist and way better in Lightsaber Combat compared to Aren, she had taken advantage by using Tràkata combined with Force Concealment that often, that she has taken victory against a completely confused and exhausted Opponent.
Special Techniques
Edit
She mastered the technique to sense Echoes within the force, which makes the Sentinel a nearly perfect Tracker for people whom needed to be searched, but Aren do know. To know the trace of someone, she has to sense his presence at least once, but the more time she spent with someone, the more Aren is able to be fully aware of the ones presence within the living force. At the Beginning of her second time as Padawan, she learned Breath Control from Lady Golds'Hark, a Miralukan and is already able to control her breath for 1-5 hrs, depending on the level of Stress she is in.
Technologies
Edit
During the time on Nar Shaddaa, Aren has learned more about Technology, as it kept her busy, but also helped her to survive. Her first work was to create a repulsor driven Remote, which had several possible applications. She was arming it with a laser that could both repair other droids and damage enemies. Linked with a Visor she created as well, it's also able to send a life stream of what it is looking at. The Program of the Remote also allow Aren, to use it as Seeker for persons, or possible ways into a Place. It's able to disable simple security Systems with her help, and has a light shield to survive a single Blaster Bolt. She also has created several systems, learned to hack and encrypt from a denizen she lived with.