Biography
Edit
Carn Ulrik was born on an unknown freighter ship. His mother died at birth and his father was a jedi who was betrayed and murdered by sith. He later became a bounty hunter, until he came across Zonama Sekot. He joined the rangers and became a Potentium apprentice. Carn also joined the Zonama Sekot Rangers Corps. Feeling that the potentium order alone was not enough to teach him, Carn left to study on other worlds. He then returned to Zonama Sekot, holding many secrets of his journeys and more attune with the force (as he believes is right).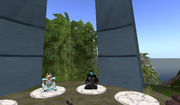 Ad blocker interference detected!
Wikia is a free-to-use site that makes money from advertising. We have a modified experience for viewers using ad blockers

Wikia is not accessible if you've made further modifications. Remove the custom ad blocker rule(s) and the page will load as expected.