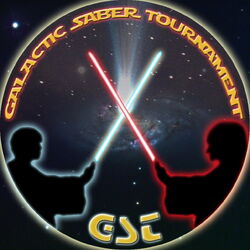 Galatic Saber Tournament
Edit
The Galatic Saber Tournament is ran by
Evalla Taurog
. She has been running the tournament since December of 2007. The tournament got it's start while Evalla was still in the Potentium order. It moved with her from Potentium to NSO to Obsidian Dominion. The GST home is now the 
Thyferra
on
Sith Space
in an amazing arena.
There are stands for spectators to watch and separate tp spots for the fighters to go down to the arena. This is a must see arena!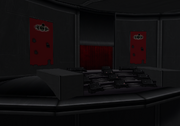 . The tournament is aways OOC. No
RP
to make for a fun environment. The tournament is always Sunday at 11am slt.
Combat Systems
Edit
The GST uses two different Combat systems for the tournament. It alternates between FCRS and RCS each week. Obsidian Dominion use both FCRS and RCS so they are incorparated into the tournament. This makes for more of a diverse crowd.
Join the Group
Edit
There is also the Galactic Saber Tournament group that gives notices for the events. Anyone is free to join it by finding it in search and hitting the join tab, it's free. When you get the invite you will have the rank of saber fighter. But once you win a match, your rank changes to Saber Master.
Now the winner of a FCRS stage wins a FCRS special rank "GST Saber Champion". This has a stat of 40 hits. The winner of this FCRS Rank gets to enjoy it for two weeks until the tournament features FCRS again. The winners of this prestige rank are as follows, and will be update after each win:
Sliver Bonnetto - Obsidian Dominion - Sith
Kyuter Adamczyk - Jedi Guardian of Equilibrium(JGE) - Jedi
Zato Lockjaw - Sith Era - Sith
Luvbutton Moonsoo - KOJ - Jedi
AnaQ Galicia - Sith
Mihaitalica123 Inshan - KOJ - Jedi
Sephiroth Lowtide - KOJ - Jedi
Sylar Graves - COR - Sith
Zero Dragoone - OD - Sith
leon Ahn
The Saber Master's
Edit
Meryn Barry - Jedi
Gaton McDonnell - Jedi
Sliver Bonetto - Sith
Kyuter Adamczyk - Jedi
Landecemo Pixel - Sith
Zato Lockjaw - Sith
ced141159212 Agnomen - Sith
Luvbutton Moonsoo - Jedi
musashi7711 Nakamori - Jedi
AnaQ Galicia - Sith
Mihaitalica123 Inshan - Jedi
Nicodemus Dreamscape - Sith
Alkaia Exonar - Sith
Zero Dragoone - Sith
Jehn McCallen - Jedi
Tournament Rules
Edit
The following rules apply at the tournaments:
Attention fighters! This is a saber only tournament. There will be a 10 minute limit to all fights. At which time I will yell stop. You must stop in place so I may see your meters.
If you fall off the the arena sides, you will counted out as dead. If you fall through the trap door, you have 10 seconds to get back up through the door before you are counted out as dead. Do not rez a box you must jump or fly out. I will count off the seconds in open chat. If you lag off the side of the arena falling to the bottom and do not crash, you can get a TP from your opponent and continue your match. If you crash, at any point once the match has begun, you will have to forfeit the match to your opponent.
The winner will be determined if they reach the end of the 10 minutes, by adding the health and stamina together. If there is a tie, then those two will be put back in the list to fight again, but, if it's the final match, then they will slpit the money. If it's an FCRS week, then no rank will be given and the cash prize will be split.
Take off all attachments. Remove CS until you are up. If you are just watching, then no need for a cs. Saber only, and one saber one hand. Double saber in one hand is fine. We want to cut down on the lag. No voice and no gestures during the tournament.
Ad blocker interference detected!
Wikia is a free-to-use site that makes money from advertising. We have a modified experience for viewers using ad blockers

Wikia is not accessible if you've made further modifications. Remove the custom ad blocker rule(s) and the page will load as expected.