"WELCOME TO GNARTTO´S SHOP!!
WE HAVE THE ALMOST AWESOME PIECES OF ARTS IN MOS EISLEY! "

— RIC-920, droid greeter in front of the store.
Gnartto have great love for arts, and transform it in a way to make some money.
With the propper tools, the toydarian artisan created a big and complex store with some incredibles pieces of arts.
Structure
Edit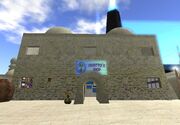 The shop is imponent like the imperial garrison on the Mos Eisley landscape. It stand out from many of the other stores and market booths that infest Mos Eisley, which partially accounted for the greedy shopkeeper's success.
The main area of the shop is the base of the building itself, where most of Gnartto's droid technology, pictures and miscellaneous artifacts are located.
The second floor is the place of the workstation, where the Gnartto´s droids work creating the fabulous items and artifacts, when his master are painting or sleeping.
Ad blocker interference detected!
Wikia is a free-to-use site that makes money from advertising. We have a modified experience for viewers using ad blockers

Wikia is not accessible if you've made further modifications. Remove the custom ad blocker rule(s) and the page will load as expected.