For other Pelek Baw sims, see Pelek Baw.
Haruun Kal is a planet of the Star Wars universe, having Pelek Baw as capital.
On SWRP a Haruun Kal sim represented the town of Pelek Baw and the forest nearby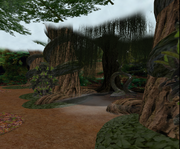 The sim moved and was replaced by Pelek Baw in march 2009.
See Also
Edit