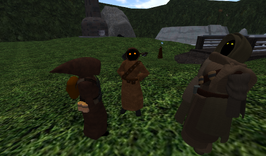 Jawas
were, in the
Star Wars
universe, short humanoids native of Tatooine.
On SWRP the jawa is a popular species, especially on Tatooine themed areas.
The Jawa avatar
Edit
Free Jawa Avatar avalible at slurl=http://maps.secondlife.com/secondlife/NHC/114/128/1568
See Also
Edit
Ad blocker interference detected!
Wikia is a free-to-use site that makes money from advertising. We have a modified experience for viewers using ad blockers

Wikia is not accessible if you've made further modifications. Remove the custom ad blocker rule(s) and the page will load as expected.