Laura es una Mujer Humana, Nacida en Dantooine , Es Jedi Master de DJE (Dantooine Jedi Enclave). Ella Como Jedi Guardiana protege y intenta mantener la paz del planeta.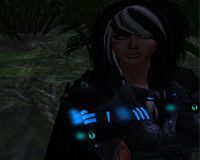 Laura, humana, hija de
Blade Kamala
, Nacio junto a su primogenita melliza Melody en Dantooine.
Ella desde muy joven quiso seguir los pasos de su padre y entrar en la orden jedi de Datoonie. Ese Deseo que tenia ella arrasto tambien a Melody a tenerlo , la dos empezaron como estudiantes y conocieron a Aura Silver, una joven humana del planeta de coruscant, las tres compartian el deseo de combertirse en padawan pronto.
Con el tiempo Melody fue tomada por Dardiel Spad como padawan. Laura y Aura fueron tomadas por Blade, aunque ellas eran muy distintas en muchos sentidos, llegaron a ser grandes amigas, tubieron sus discusiones pero siempre volvian hablarse. Más Tarde Laura eligio el camino jedi guardian y Aura eligio el consular. Melody se detubo en su entrenamiento debido a que su master estaba bastante ocupado.
Finalmente llego el día, Laura y Aura se Graduaron y se combirtieron en Knight de Dantooine. Poco tiempo despues, llegaron tiempos obscuros a Dantooine. Master Stallion dejo Dantooine llevandose a muchos con él, las nightsister rompieron su alianza con Dantooine. Aura dejo dantooine, abandonando el lado de la Luz a Cambio del de la obscuridad llevandose con ella a Harmony, una gran amiga de Laura, No se volvio a saber de ellas. Laura continuo en Dantooine junto a su familia.
Tranquilidad en Dantooine
Edit
Despúes de los tiempos obscuros de dantooine. Laura seguia entrenando duro, sin querer tomar un padawan, debido a que no se veia ella misma preparada para entrenar a un padawan. Pero Conocio a Marcos y ella se lanzo a entrenarlo. El era muy listo, ella sabia que seria un buen padawan, y así Fue. Con el paso del tiempo Marcos termino su entrenamiento. Combirtiendose en Knight y Laura en Master.
Actualmente
Edit
Ella esta entrenando a sus dos Padawan, Starshine y Lindsay. Continua con querida familia, en Dantooine.
Informacion OOC / Information OOC
Edit
In Spanish

Esta Wikia es en Español, pero si usted quiere leer en ingles acceda a esta pagina: Laura Kamala
Todavia se esta trabajando en la pagina en ingles y en español , por favor ser paciente.

In English

This Wikia is in Spanish, but if you want to read in English go to this page: Laura Kamala
We are still working on the site in English and Spanish, please be patient.