THIS CHARACTER REF IS NO LONGER BEING EDITED A NEW/REVISED VERSION IS BEING CREATED**
--Maw Thel [nex.banx]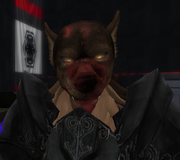 Lord Thel, Barkk Kharan Thel, is a Shistavanen Sith Lord in the Serpentine Order of Sith and is known by his peers as "Thel the Devouring."
Early Life
Edit
Barely out of adolescence, Thel was recruited by the now dissolved Order of Dark Lords, also known as the Jen'ari. After disbandment, Thel saught to be redeemed by the Jedi, running to Dantooine to become a part of their Order. He spent many years there, becomming a padawan under Master Ce'nendra, and even becomming a respected Knight. Dispite this though, he always had a secret darkness in his core.
| DJE Academy -Barkk Kharan Thel | |
| --- | --- |
| Padawan To - Jedi Master Ce'Nendra; Jedi Consular, Jedi Sage | |
| Knight - Jedi Consular, Jedi Artisan | |
Fall back to the Dark Side
Edit
Even after becomming a Jedi Knight, the darkness inside still proved to be more powerful than his light sided will. His will gave in while aiding Jedi Master Kiereibu in guarding Illum ruins. He was escavating in the crystal caves when five sith from the Serpentine Order confronted them and fequently taunted him with lies of his old master. Thel is now a Sith Lord in Serpentine and a respected Inquisitor. He quickly gained the title "The Devouring" due to his carnivorous form of torture and "Lessons."
| Serpentine Order of Sith - Lord Thel | |
| --- | --- |
| Sith Lord - Inquisitor, Artisan | |
| Advanced Class-  N/A | |
Ad blocker interference detected!
Wikia is a free-to-use site that makes money from advertising. We have a modified experience for viewers using ad blockers

Wikia is not accessible if you've made further modifications. Remove the custom ad blocker rule(s) and the page will load as expected.