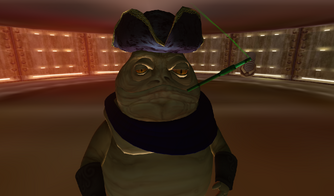 Quarko the Hutt is a Hutt from the Gejalli Kajidic.

Age: 777
Characteristics:
Quarko is a Military Hutt, considered crazy, and called for his enemies: The Mad Hutt.
Quarko have his right eye very little, and sometimes wear fake nails on his hands to protect himself, and have a very large tail. After some years Quarko started to wear an eyepatch on his right little eye and a brown cloak with hood. Quarko had a mustache too, what makes him different.
After some problems in Nal Hutta, Quarko went to LME, and after some months decided to return to Nal Hutta and there found a Old Holy Book of the Hutts. During the years Quarko had some problems as depression and mental disorder, he was very sad and sometimes trying to kill himself, so he decided to give the Book to Yzma the Hutt, she was the aunt of Jengaz the Hutt. Now Quarko is disappeared, and what happenned with him is a mystery.
Ad blocker interference detected!
Wikia is a free-to-use site that makes money from advertising. We have a modified experience for viewers using ad blockers

Wikia is not accessible if you've made further modifications. Remove the custom ad blocker rule(s) and the page will load as expected.