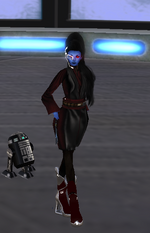 R486,
was Jedi Master
Aenanya Riaxik
's loyal medical droid that assisted her in the medical bay as well as with varies surgeries. The drioid was captured alongside its master and reprogrammed to serve its next masters loyaly. Afterward, it was sold to smugglers who then sold it to
Kyanduso Taurus
; who since then has kept it to help her with her Sith Alchemy.
Behind the Scenes
Edit
Vashara created an alt named R486 who she roleplayed as, she also on her main account purchased an actual driod that follows her around everywhere. R486 is a stationary NPC, that will be seen more with Kyanduso as more roleplays come up.
Ad blocker interference detected!
Wikia is a free-to-use site that makes money from advertising. We have a modified experience for viewers using ad blockers

Wikia is not accessible if you've made further modifications. Remove the custom ad blocker rule(s) and the page will load as expected.