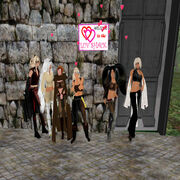 A group of close friends that always found themselves hanging out together at The Luv Shack decided to band together to create this all girl group. This was to be a secret group made up of select girls of NOJ. Membership was by invitation only (since the group was unknown) and regular meetings where held to decide so all members could have a like mind. The goal of the group was to improve NOJ and the Roleplaying Community as a whole, thus sometimes called "The Luv Shack Pack of NOJ". The Luv Shack Pack had secret symbols as well as "code names" to distinguish alts if ever one would have to reveal themselves to another member. In addition, The Luv Shack Pack had a complex voting system made up of 5 voting members with Luvbutton Moonsoo, the group's namesake with the ability to veto or cast a deciding vote. Later, the group decided to expand to include guys by extending membership to Lenny Celt. Male members in the group were called "Luv Shack Sweeties"
Ad blocker interference detected!
Wikia is a free-to-use site that makes money from advertising. We have a modified experience for viewers using ad blockers

Wikia is not accessible if you've made further modifications. Remove the custom ad blocker rule(s) and the page will load as expected.